5 Simple Workout Motivation Tips That Guarantee You Achieve Your Body Makeover Goals Faster

These 5 simple workout motivation tips and tricks do more than boost exercise motivation. They will help you reach your body makeover goals with fewer setbacks, have more fun getting fit and healthy plus help you maintain your best female figure forever!
Workout Motivation Tip #1. Set a Body Makeover Deadline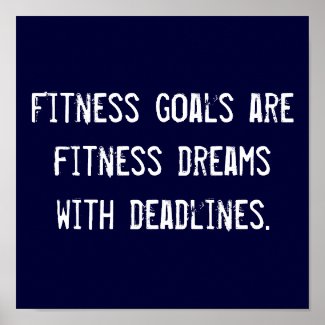 Fitness Goals Posters
by
Power2BThin
Get the best
poster printing
on zazzle.
Setting a deadline for achieving your body makeover goals is one of the most powerful tools that will help you get your best figure even faster.  A deadline keeps you accountable to yourself and keeps you focused on what you need to do daily to reach your goal. It also helps you focus on solutions vs. problems.
If something isn't working for you or going as planned then you are more likely to figure out a way to make it work because your mind is always subconsciously working to help you reach your goals and deadlines you set for yourself.

Workout Motivation Tip #2. Create Inspiring Fitness Vision Boards

A vision board is a visual representation of what you envision yourself having or being and it works by creating a powerful imagine in your mind of what you want for yourself.
But creating an inspiring board that will help you get your dream body is about more than just pasting pics of body parts you want on a canvas.  You need to use the right images for your Fitness Vision Boards so that they inspire you to do what you need to do to reach your body goals.
Workout Motivation Tip #3. Make Workout Playlists That Move You
A great workout is only as good as your energy levels and your performance and one thing that boosts both is great music.  A good workout playlist that you can play while getting ready to train and/or during your workouts will help you push past plateaus and keep things fun which is very important for results that last a lifetime.  
Here's one I put together recently with songs that are sure to get you moving.
Workout Motivation Tip #4. Start with The Right Workout Plan

The best way to get your best body fast is to find a workout plan that is right for your goals and your body type and then stick to that plan for 4-8 weeks. One of the biggest mistakes that women make these days is doing random workouts from a variety of sources (i.e. bloggers, youtube, magazines, etc.) 

This is the equivalent of tossing everything you have in your fridge in a pot and then expecting a gourmet meal. Not gonna happen!  Your body needs time to adapt to exercises and new movement patterns. This can vary from person to person based on fitness level, ability, and exercise experience.
Some women may adapt to workouts as quickly as 3 weeks, others in 6 weeks and some in 12 weeks so it is key to stick with the same set of workouts for at least 3 weeks.    
Workout Motivation Tip #5. Put Together A Fitness Bucket List

BUCKET LIST POSTER
by
shopfullofslogans
See other
Bucket Posters
This bucket list can include fitness goals you want to accomplish sometime in the near future. It can also include physical activities you would like to do once you are stronger and fitter and leaner. Here is a list that FitSugar published a while back that includes some of the top bucket list goals that women have. These are just ideas to get you started. You should come up with your own cool list that is motivating to you.
Finish Marathon
Ascent Challenging Summit
One-Arm Pushup or Regular Pullups
Fly Through Air on Trapeze
Compete in Cycling Race
Complete Triathlon
Paddle Board or Surf
Go Rock Climbing
Practice Yoga in India
Struggling with workout motivation?

The reason so many people struggle with exercise motivation is they don't know their underlying fitness motivation. The REAL reasons for wanting to get fit, burn fat, lose weight, be healthy, look and feel good are are buried deep in your subconscious and you gotta dig deep to find them. It's the only thing that is going to keep you consistent for life.
In my 12+ years working as a fitness trainer/fitness therapist I worked with hundreds of men and women in all types of settings and became a master at uncovering people's underlying motivations. Maybe it was my psychology background that helped or maybe I just payed very close attention to a lot of what my clients were really saying in sessions but the real reasons why people workout are not what they tell you when you first meet them. I'll be writing about that regularly from now on and sharing the reality that is missing from most fitness sites/blogs out there.
All the stories I'm going to share are real, including my own. They may surprise you but I hope they help you find YOUR underlying workout motivations so you can finally get the body you want and so you can keep it for life. Got questions about your underlying exercise motivation? Post them below.

Underlying Workout Motivation Tips
Do you have a great story about this? Share it!
What Other Visitors Have Said
Click below to see contributions from other visitors to this page...